Mula Education Society
The promise of a bright future
HON. YASHWANTRAOJI GADAKH PATIL,EX- MP, envisioned a bright future for the rural India. He dreamed of imparting' Quality Education' to the rural masses with the view of enhancing their 'Quality of Life'.Thus, The Mula Education Society ( MES ) was born in the year 1979.The society's first endeavor was to start an English Medium School i.e. The Mula Public School for the rural children. Since then, with the blessings of the Almighty, there has been no looking back.The Society went on adding schools and colleges in and around Ahmednagar, Nasik and Pune, offering different streams of education with numerous upcoming specializations to cater to the needs of the aspiring students who had a dream and were looking out for the means to fulfill it.
Today, MES proudly acclaims a family of 23 Institutions, more than 650 teachers and above 15000 students.This is a result of pure dedication and sincerity for the cause of education and a track record of giving a strong foundation and bright career to numerous students who have passed out from its various Institutions.It is also looked upon by the parents of growing children as a reliable source for their bright future and development in years to come.
Sahyadri Institute Of Management Studies,born under the patronage of The Mula Education Society, affiliated to the University of Pune and approved bt the AICTE, New Delhi, is located in the perfect settings ; the IT hub of Hinjewadi at stone's throw distance,the PCMC and Chakhan Industrial Belt very near by and a spread of pollution-free serene settings in its campus itself……just what an MBA aspirant looks for during the course of studies.The Institute revolves around the objective of picking up potential talent, developing and polishing it for preparing it to be launched as 'Trained Leader Material' adaptable anywhere and everywhere both in national and global settings.
Faculty: Highly qualified and experienced faculty both in-house and visiting, from industry and academia comprise of the team of 'Knowledge Dissipaters'' at Sahyadri Institute of Management Studies. Thus, the teaching-learning process is totally informative, significant, gripping and enjoyable for the students.
THAT'S WHY SAHYADRI INSTITUTE OF MANAGEMENT STUDIES IS THE CHOICE OF MBA ASPIRANTS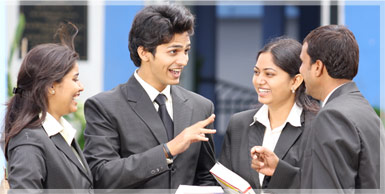 Some of the colleges of the society:
Arts, Commerce and Science College, Sonai
Dnyaneshwar Mahavidyalaya, Newasa
College of Agriculture, Sonai
Pharmacy College (B. Pharmacy), Sonai
Diploma in Pharmacy (D. Pharmacy), Sonai
College of Education (B. Ed.), Sonai
D. Ed College, Sonai
D. Ed College, Ahmednagar
A.T.D. College, Sonai
Mula Public School, Sonai
Wonderland Pre Primary School
Sahyadri D. Ed College, Tathawade
&
SAHYADRI INSTITUTE OF MANAGEMENT STUDIES, TATHAWADE, PUNE.
ACADEMIC SYSTEM

"PROCESS LEADS TO RESULT" is what we believe at Sahyadri and hence academics is a process of converting the raw input in the from of fresher's by churning them and mounding them through a vigorous schedule of classroom teaching, seminars, presentations, case-studies, industrial visits, assignments and examinations, into the final and groomed product ready to be indulged in any setting be it corporate or entrepreneurship. The internal assessment is a continuous process which comprises of class attendance, internal examination, presentations and assignments thus marks have to be earned and not just allotted.
The teaching pedagogy emphasizes on active participation, rather than passive assimilation. That's why we were different from the conventional stream!
INSTRUCTIONAL TECHNIQUES

Sahyadri Institute of Management Studies, uses all the modern and result oriented instructional techniques to equip the students with latest concepts and skills. To name a few :

1.Speedy Spread Of Knowledge
3.Presentations
5.Brainstorming
7.Learning Through Foreign Language
9.Management Games
2.Case-Study Approach
4.Role – Plays
6.Research Consultancy
8.Social Research And

This makes the learning Process Hi-tech and enjoyable
Messages
Shri Yashwantrao Gadakh Patil
Founder – President
"When I started my career as a teacher, education fascinated me. I had seen people change their lives and accomplish their dreams on this firm foundation of education..."
Shri Prashant Patil Gadakh
Secretary
"On the backdrop of globalization, education is changing and upgrading with a ferocious speed. With a view of keeping our rural countryside to the pace of the world..."
Director
"The very spring and root of honesty and virtue lie in good education." Education – with time, has only gained more importance and more power..."
Shri. Nitin Patil
Executive Director
"Geographical boundaries are dissolving. And Global Managers are evolving. Indian Managers have made such huge impacts in world's largest Multi-national companies..."

Contact Us

Sahyadri Institute of Management Studies
Post Tathawade, Tal. Mulshi, Dist. – Pune,
Ph: 020 – 64103666/ 64003666
E-mail: sahyadrimba@gmail.com